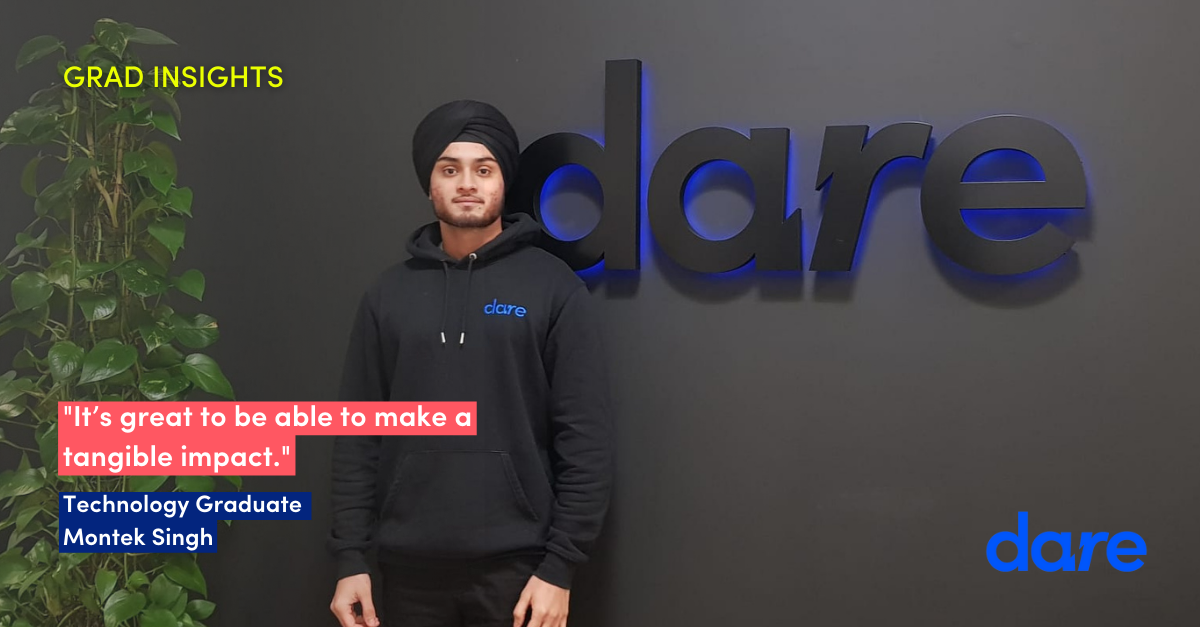 Montek has had a busy first five months on our new Technology Graduate programme. From courses on Django to trader training and application development, find out what he's been working on and how he's already adding value to Dare.
I joined Dare as a Technology Graduate in July 2022. The importance that's placed on work-life balance and building a team-oriented environment was obvious from day one. These are priorities for me, and I was impressed to see these values taken seriously.
Once I completed the initial three months of advanced Python training, I joined the Rapid Application Development (RAD) team. Our team is responsible for building quick and reliable software solutions to deploy in two different scenarios: the first is when existing software stops working, which can mean operating under pressure to deliver a fix ASAP; the second involves building new product features to implement, based on ideas from people across the business.
Both scenarios are essential to the function of the company and it's great to be able to make a tangible impact. It's also exciting because these solutions are deployed at pace, and an MVP (minimum viable product) often needs to be prepared that same day.
In practice, most of my time is spent building out and refining our in-house trading products. These systems support the traders, so taking the time to talk to them helps us understand their needs. It's satisfying to transform these needs into working solutions that support the success of their trading desks and the company as a whole.
For one of my latest projects, we deployed our in-house performance tracking system using a carrier cloud. We also regularly work on systems which are integral to the company's profit and loss calculations that need to be carried out every day. The variety of tasks has helped me grow as a developer in a short space of time. It's rewarding to find creative ways to solve problems in the real-world, in real-time.
Working on the RAD team isn't like working on a normal software team. The quick turnaround times demand that we have a high level of focus, an innate understanding of what the business does, and great communication.
Everyone on my team is open to sharing knowledge and happy to help me whenever I need it. To anyone looking to apply to a similar programme, my best advice is to not be afraid to speak up and ask questions, right from the interview stages and even after you are well-established in your new role.
Applying knowledge practically has always been my preferred way of learning, and I do this daily at Dare. Every day, I support our key trading business through the work I do. The impact of that work motivates me, and delivering software solutions leaves me feeling fulfilled at the end of the day.  
If you are interested in a career in technology and software development, we are hiring. Applications are now open for our 2023 technology graduate roles. Check out our careers page: https://careers.dare.global/