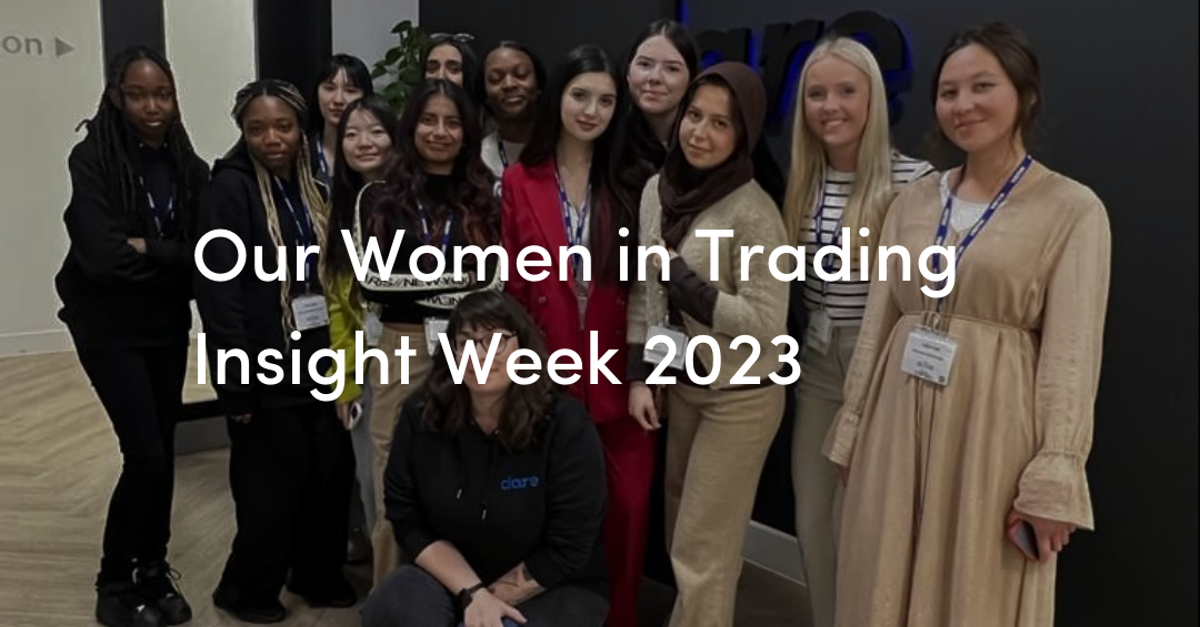 "The Women in Trading Insight Week at Dare was a unique, memorable experience for me. I don't know any other trading company which allows shadowing of their traders, especially during the hectic trading windows."
                                                                                                                                              – 2023 Insight Week participant   
We're proud to have successfully run our second Women in Trading Insight Week last week and gained feedback like this. We're already looking forward to the next one.
Why do we need this initiative?
There's a well-known and widespread gender imbalance across financial services. Over-the-Counter (OTC) trading is where Dare made its name, and in this space the imbalance is even more pronounced. But we don't see the status quo as a reason to rule out 50% of our talent pool.
As we all know, there is an underlying problem of gender equity that spans labour, social and domestic areas across the globe. Women's economic empowerment is a key factor to help us rebalance. According to the OECD, encouraging women to participate in trade, as entrepreneurs, traders or workers, is an important step towards this.
Data shows that women involved with trading tend to be concentrated in small- and medium-sized enterprises (SMEs), like our business here at Dare. So, we're well-positioned. In addition, a large part of trading and investing is about building confidence through research, education and learning.
At Dare we're in the right place, and we're at the right time to make a real impact on the talent pipeline. One of the ways we're doing this is through our Women in Trading Insight Week.
How does an Insight Week actually help?
The CFA Institute notes a few potential solutions that we can implement in the financial industry. Here's how our Insight Week (and some further initiatives) hit the mark:
Position the industry as a potential career option for women at a younger age.
Our Insight Weeks are designed to do exactly this - aimed at younger university students, they offer an extra springboard to get a taster of our business before our full internships, grad schemes and employment tracks. We're also investigating how we can partner with universities and places of learning to embed ourselves even earlier into the talent pipeline.


Provide appropriate training and development for female employees.
There's a reason why we have set this up specifically for women, and why we run other insight weeks open to all genders. We need to focus on gender equity over equality to address the imbalance.


Offer certifications and accreditation to give confidence to the workforce.
This is a difficult mark to hit, as a lot of trading needs to be learnt live, 'on the job'. Almost all of our most recent cohort reported that their favourite part of the week was the opportunity to shadow traders during busy trading windows. This gives an insight and case study of what life is really like on the trading floor.


Address the compensation model and pay gap.
Whilst we're proud to say that everyone at Dare is paid their worth, regardless of gender, our Insight Weeks aim to boost young women's entry into roles that are traditionally male-dominated.


Walk the talk and demonstrate that women are a presence at all levels in the company.
As well as showing our insight week cohort how things operate at a working level, they're given ample opportunity to speak to our team across the board – from our senior leadership to positions outside of the trading floor. For more insight, as well as some inspiration, check out a recent podcast Julie Arnold, our Head of Power, Gas and Emissions Trading, did with Modo Energy. Another great role model is Sophie Choo, one of our Associate Traders, who shares her tips on the essential qualities you have to have as a trader, here.
We are the first to recognise that this is a process that we need to keep building on and improving. While our cohort enjoyed the interactive elements of the week the most (there is a lot to be said for learning by doing), an area that we will make sure to improve is to advocate more about our female-focused initiatives on socials, and giving advanced notice on the week's schedule.
Watch this space to see what's next.
Get involved
At Dare we make sure that everyone is paid their fair worth and given the benefits they deserve regardless of gender. But this imbalance is a deep-rooted problem, and we're always looking for more ways to level the playing field.
Let us know your thoughts and experiences on our LinkedIn page.