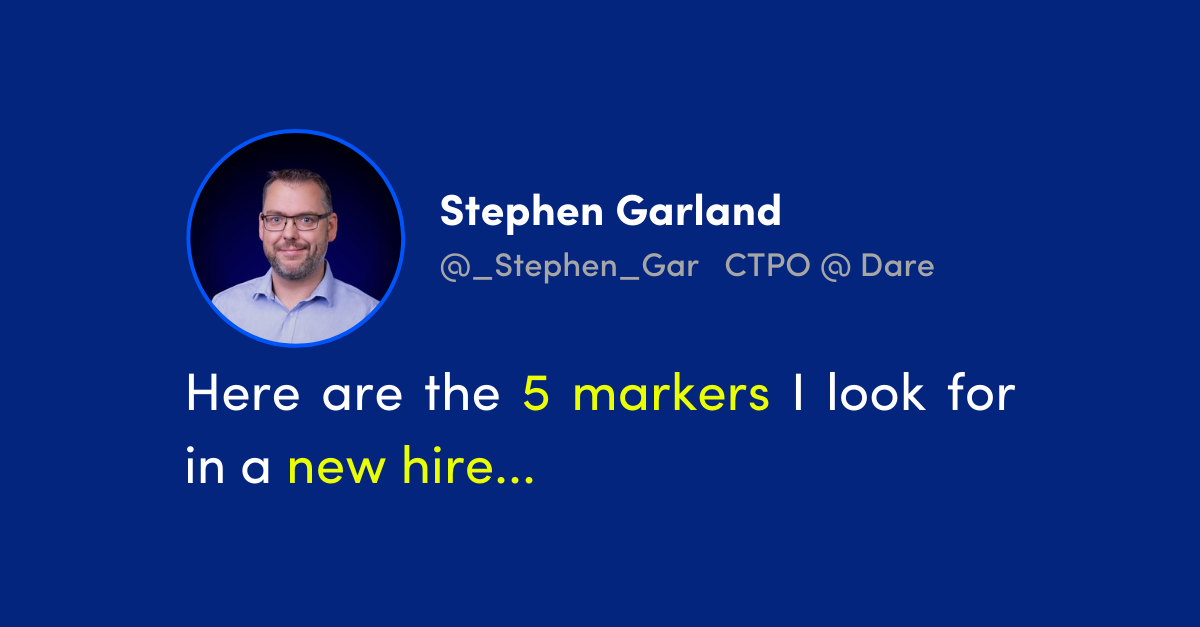 The top 5 qualities I look for in the best tech and data hires
After only one month in my role as CTPO, I have been having a blast at Dare. We move fast. We are already building a team set to shake up commodity trading, and we're not stopping there.
In my 24 years of experience working and leading in the data and tech sectors, I have had my fair share of successes, as well as some failures, in building world-leading teams. Talent acquisition has shifted in recent years, to focus less on cost alone, and more on making hires that maximise the value delivered to customers and shareholders. An integral part of this is bringing people on board who can increase a company's velocity when it comes to scaling up.
The bottom line is that hiring and retaining the best talent is vital to executing our business strategy at Dare and delivering on our ambition. To help you understand what we are looking for, here are the top 5 qualities that I look for in a new hire:
1. Curiosity and flexibility
It is absolutely essential to have a curious mindset so that you can not only tackle the biggest problems we have, but genuinely embrace the challenge of it. Flexibility comes as a package deal here because big problems come with big hurdles, and you need to be ready to experiment with your approach to overcome them.
2. Impactful
You must value the outcomes that come with doing impactful work. We are looking for talent that craves 'moving the needle' and delivers continuous improvement.
3. Ambition to progress 
We pride ourselves on enabling the best performers by clearly communicating our purpose, understanding your purpose, and ensuring both are well-aligned. We want you to succeed because your success is our success.
4. Diversity 
There is no sense in always following the rulebook and our same patterns of behaviour. Different people, with different backgrounds and life experiences, leads to a diversity of thought. This is the breeding ground for new, interesting and innovative ideas, products and solutions.
5. Reputation
We pride ourselves on being the best in the business when it comes to solving complex problems, and we expect the same from you. These qualities are key to our overall business strategy, and how we are establishing ourselves as market leaders.
Of course, this is a two-way street. People are complex beings and need to be listened to properly. Clear communication is essential to forge a truly effective team. At Dare, we integrate our purpose and mission into the impact we have, linking every action back to our overall goal: to drive the world to a greener place, faster.
So come and join my team. Work with us to drive the world to a #greenerfuture, quicker.