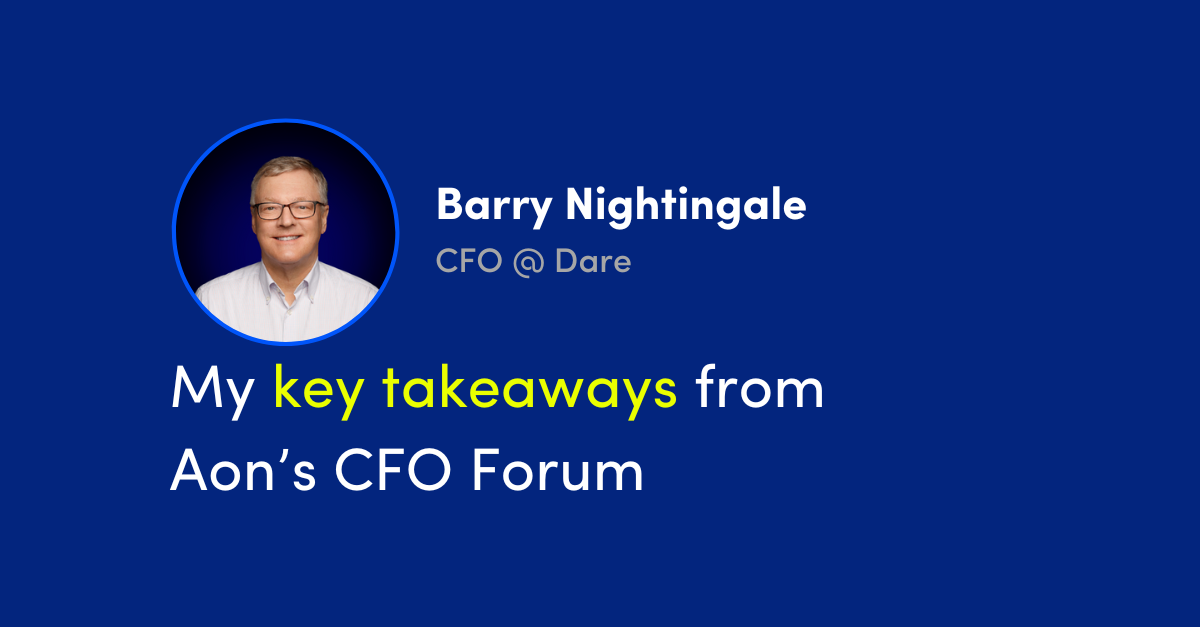 I've been with Dare since February, and what a year it's been. The Russia-Ukraine conflict started on one of my first days in the office. Lots to reflect on and many learnings to take into the new year.
As a company, we've scaled up massively, and we're only set for more growth. Globally, this has been a year filled with drastic geopolitical shifts and more economic uncertainty than any other in recent history.
I recently took up the opportunity to join a panel of top finance executives at Aon's CFO Forum. We discussed how businesses can thrive under current economic challenges, and how we see the future of the economy playing out. The CFO Forum always attracts a crowd and this year appeared to be no different.
Here are my top four insights (plus a bonus one) from the forum, and how you can ensure successful growth in troubling times:
1. Data is king and digital technology is the biggest enabler of growth.
Data-driven decisions are integral to ensuring successful growth: Data quality equals decision quality with the proper systems in place. Data as a service (DaaS) is a prime area for growth and revenue, and is already beginning to outstrip software as a service (SaaS) in terms of how businesses are valued. Scaling technology platforms unlocks rapid innovation growth.


2. Technology and cyber risks must be mitigated right now.

Robust security measures must be built from the ground up as you scale up your data capabilities. This includes employee education. Over 70% of cyber security incidents are caused by employees clicking on a phishing link. To cope with constantly changing threats, and wider global risk factors, enterprise risk management must be dynamic.


3. Resilience is key to attracting and retaining the best team.

Only 30% of the UK employee base feels confident in their ability to be resilient in the current economic client. Training and building your company's skills for the future, including mental and emotional resilience and digital skillsets, can tackle this challenge. Working patterns are changing, and we must ensure that our leaders are equipped to deal with this and have resilience training of their own.


4. Positive workplace culture is integral to a happy, productive workforce.

Set your values and mission with clarity and put these into action by embedding them into key performance metrics, both as part of personal and business objectives.
Bonus learning – for a disruptive company like Dare, the tectonic shifts we've been seeing in macroeconomic environments don't have to only present challenges to business growth. These periods of volatility can offer an exciting opportunity to drive rapid innovation. For this, the best team needs to combine strong digital skills with dynamic and resilient growth.
With thanks to Richard Pike from Biffa, Sean Pelling of John Swire and Sons, and Aon's CFO Christa Davies for a lively and thought-provoking session. Additional thanks to Lore Golterman for her brilliant chairing.