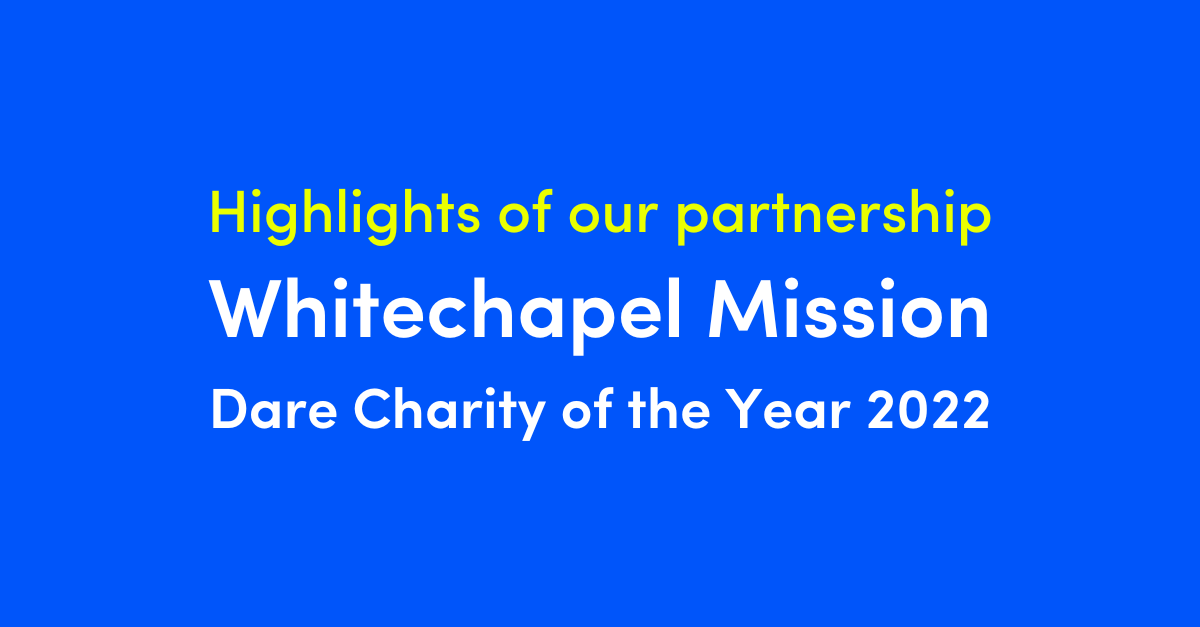 Dare is committed to creating a positive social impact and supporting our local communities - it's embedded in our culture.
Last year, our people voted for the Whitechapel Mission (WCM) as Dare's Charity of the Year for 2022.
The WCM, based in East London, has been supporting London's homeless people since 1876. Open every day of the year, they provide clothes, food, skills, training, and career advice for homeless people and those at risk of homelessness – often seeing 300 people per day.
This partnership provided Dare team members with opportunities to fundraise for and donate to the WCM, and to volunteer alongside the charity's members to support them in making a positive and lasting impact on the people who need it most.
We reflect on our year-long partnership with the WCM and the lasting contributions it allowed us to make, whether it be hands-on volunteering activities, donating directly, or fundraising during an event.
Dare took on the incredible 5am Breakfast Challenge four times in 2022. Dare volunteers prepared and served breakfast to over 1,000 people throughout the year, helping those in need start their day with a warm meal.
"Volunteering at the Whitechapel Mission was an incredibly eye-opening experience, and I am grateful for the opportunity to have spent time with the staff at the Mission and those who are in need of their services"
– Recruitment & Development Associate, Dana Ali.
Dare volunteers also provided guidance on employment and housing-related issues to people facing these obstacles during one of the Mission's Advice Centre drop-in sessions. The 5-hour sessions allowed those who felt marginalised and unheard to feel supported and empowered in taking practical steps to tackle those problems.
Individuals also raised money for WCM through various creative and competitive fundraising activities. Trader, Sabrina undertook the monumental challenge of running the #LondonMarathon2022 and raised over £4,296. At our Dare offices, we also hosted our own Bake-Off, where team members brought in their own home-baked creations for judging, which were sold to raise a total of £370.
As well as arranging competitive Poker & Games Nights – raising over £2,405 – Dare also held a charity football match, where our best footballers competed against A-Star Football Academy (Under 12's grassroots team). Despite Dare losing the game, the event was a great win, with £288 raised for our Charity of the Year partner.
Dare also put on a Black-Tie Ball. The evening not only marked an end to a successful year of our partnership and a cause for celebration, but it also included a fun Charity Raffle Auction (with all items to be won and donated by Dare team members), and over £2,000 raised in the raffle ticket sales.
In total, the Dare team raised a total of £16,473 for WCM throughout 2022. Dare will be more than 'double-matching' this incredible effort, adding more than £32,000 to bring the grand total to £50,000 to amplify our impact.
"I'm very proud of the team's effort, creativity, and dedication. We've spent this year connecting with the charity and learning about how they make a real impact to so many lives. For a company our size, our fundraising total is an achievement to be proud of"
– Senior Trader and Head of Dare's CSR Committee, Rupesh Parikh.
We'd like to thank WCM for all their work in the community and wish them continued success.
We now look to select a new charity to take the 'title' as our Charity of the Year partner for 2023. Watch this space to find out who we partner with next.