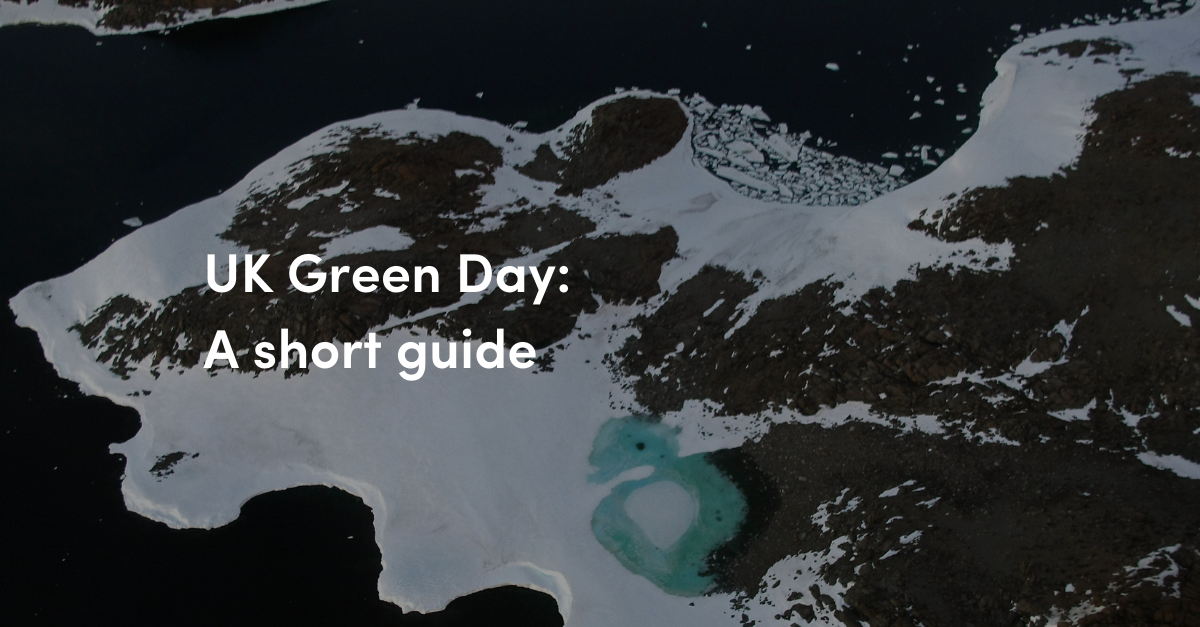 Thursday 30th March, dubbed "Green Day", marked the unveiling of a suite of highly-anticipated announcements covering the UK's response to the climate change challenge. Here's what you need to know. 
Despite being branded by Energy Security Secretary Grant Shapps as an 'energy revolution', the Green Day announcements do not mark a fundamental shift in the Government's existing policy direction on net zero. Instead, they are intentionally delivery-focused, providing answers to how the UK will take its next steps in the global green race. 
The documents have received criticism from industry, media and politicians on all sides of the spectrum for its lack of clear plans and concrete commitments in areas such as home insulation and onshore wind. Nonetheless, they do contain a lot of information on what we can expect moving forwards. 
It is particularly noteworthy that no new funding has been announced; an omission emphasised by the fact that Chancellor Jeremy Hunt and his officials appear to have distanced themselves from the plans. 
However, there is progress to be seen, particularly on CCUS, nuclear energy, network capacity and EV charging. The Government has also set out plans to tackle the challenges holding back reform, through to newly proposed National Policy Statements. 
Overview 
44 documents totalling over 2,700 pages constitute the 'energy moment' DESNZ has long been planning. The full list can be found on gov.uk here.
The announcements come largely as the result of an instruction by the High Court for the Government to submit further detail on how it will reach its pledge to hit zero carbon emissions by 2050. 
Government also published its response to Chris Skidmore's net zero review (where it takes on 23 out of the 25 recommendations) and its response to the UK's Climate Change Committee (CCC) progress report. 
Written ministerial statement and Energy security plan 
Energy Security and Net Zero Minister Graham Stuart's statement outlines the Government' plan for 'Powering Up Britain', which details its roadmap for achieving energy security. In it he summarises much of the energy security plan. 
The ambition will be delivered across 4 areas:
Energy Security – Setting the UK up for energy independence
Consumer Security – Protecting consumers from high energy bills
Climate Security – Supporting the transition away from fossil fuels
Economic Security – Reducing inflation and delivering highly-skilled jobs
The Government's 'Powering Up Britain' plan, according to Stuart, achieves these goals through several significant policies, including:
Delivering Great British Nuclear, which will scale up nuclear investment to increase overall nuclear capacity in the UK to 24GW by 2060. This will be achieved through deploying Small Modular Reactors. 
Committing to Carbon Capture, Usage and Storage through the creation of CCUS clusters across the UK.
Delivering a hydrogen economy through a suite of innovative developments, including a £240m Net Zero Hydrogen Fund and twenty projects for electrolytic hydrogen production technology (to make 'green hydrogen').
Accelerating deployment of renewables, with a view to developing 50GW of offshore wind by 2030 and quintupling the UK's solar power by 2050, which will be supported by a Contracts for Difference Scheme to incentivise investment and a £160m funding for wind. 
Reducing household bills by introducing retrofitting insulation measures through the Great British Insulation Scheme, increasing energy efficiency.
Reducing our reliance on fossil fuels by targeting a goal of phasing out all new natural gas boilers by 2035, which will be supported by an acceleration of investment into heat pumps.
Decarbonising transport by incentivising investment into electric vehicles and mandating the development and usage of sustainable aviation fuels.
Speeding up planning and networks on decarbonisation and energy developments, such as through the Nationally Significant Infrastructure Project Action Plan.
Mobilising private investment through the Green Finance Strategy, which will incentivise investment into the UK's growing green finance market.
Supporting the industry through the transition, such as through carbon leakage measures, which will build industry confidence in UK investment,
Building on our COP26 Presidency with new action plans to make the UK a world-leader in energy security and decarbonisation.
Notably, there were no new measures to expand onshore wind, and nothing in response to US and EU subsidy packages - for these we'll have to wait until the Autumn Budget, according to Chancellor Hunt. 
There is quite a lot to look forward to as the year carries on: 
Also on the autumn agenda, the Government has committed to giving an update on gas security, in which they will look at the future role that gas storage and other sources of flexibility can play. 
Action on the Grid is another anticipated announcement planned for later this year, which will cover action plans to reduce the development time for transmission network projects and on accelerating electricity network connections. 
In the shorter term, the Government will launch a consultation in spring 2023 to enable fast track consent for projects required to build renewable electricity infrastructure.
Response to the CCC's recommendations
The CCC's latest annual report was damning of the UK's climate change policies, claiming that the country will only reach one-third of the UK's 2050 emissions reduction targets it is legally bound to if current policy frameworks are not updated. 
The Government published a full response on Green Day, arguing that the Energy Security Plan and Net Zero Growth Plan will deliver the required reductions. It does, however, refer to various policies that were in place before the CCC began their investigation last year, and of which the CCC would likely have already considered.  Additional documents also detailed progress against the UK's upcoming carbon budgets, maintaining that while we are off the mark for budgets 5 and 6, carbon budget 4 will be met. 
Net Zero growth report 
This report represents the updated Net Zero Strategy, and leans into the Skidmore Review's conclusion that the transition to net zero presents the "economic opportunity of the 21st Century". It says the UK will work with allies to realise the growth opportunities this brings.
It notes that investment at scale will be necessary to seize these opportunities while stating that Government commitments and public financing to date have led to real progress.
The report sets out the Government's response to the Independent Review of Net Zero (the Skidmore Review). 
The document summarises the Government's actions across 8 key sectors:

Power 
Fuel Supply & Hydrogen
Industry
Heat and Buildings
Transport
Natural Resources
Waste and F-gases
Greenhouse Gas Removals 

And 8 key 'enablers':

Innovation
Green Investment 
Net Zero Workforce and Skills
Embedding Net Zero in Government
Local Net Zero 
Empowering the Public and Business to Make Green Choices
International Leadership and Collaboration
Despite recommendations from Skidmore, the Government has decided not to establish an 'Office for Ne -Zero Delivery', which would be an arms-length body established to coordinate different departments. They maintain that the new Department for Energy Security and Net Zero will be able to fulfil this role. This also highlights how the Government is now positioning energy security and net zero as two parts of the same mission.
In summary
The big question will be whether delivery can match up to the urgency and scale of the challenge, particularly as polling has consistently shown that the British public overwhelmingly support decarbonisation measures.