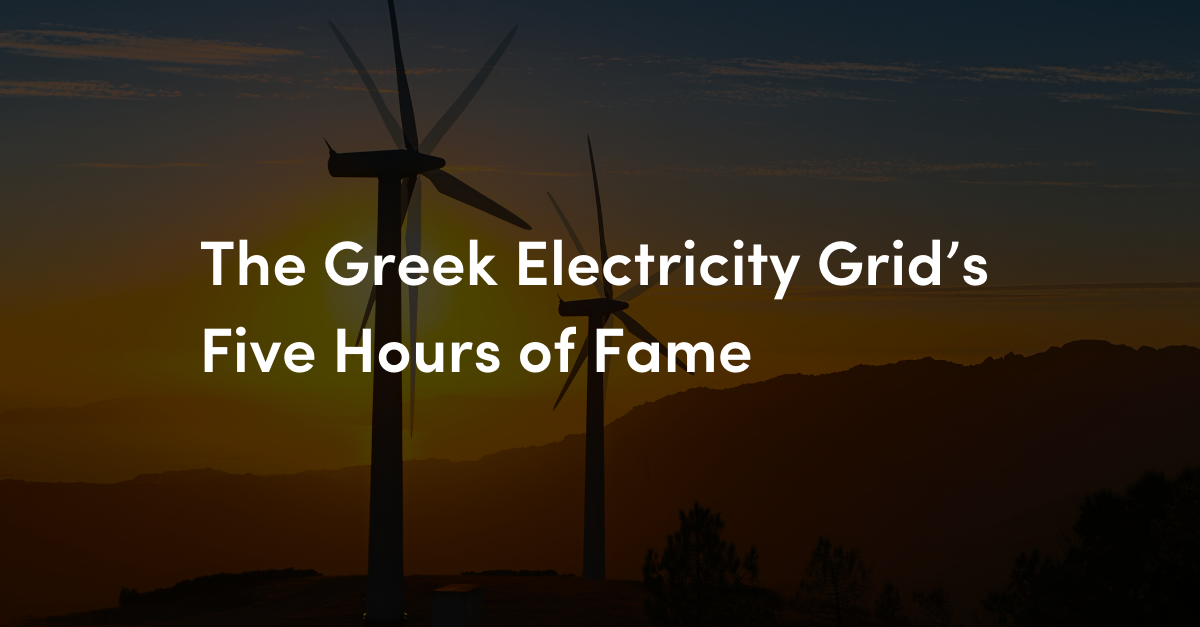 Greece ran its entire electricity grid for five hours on 100% renewable energy – but what progress is being made in the global energy transition?
For the first time ever, Greece's entire electricity grid ran on a combination of wind, solar and hydro energy in October 20221 with a record 3106 MWH of electricity produced in the period. The preceding eight months paved the way, with an average of 46% of energy generated from renewables.1
This demonstrates that operating a 100% renewable electricity system is attainable for Greece and marks an important milestone.
Yet, this is just one point in Greece's energy transition journey. To deliver on its 2030 goal to increase green energy production to 70% of its total, the country needs to attract a further €30 billion in investment1.
Nikos Mantzaris, a partner at Green Tank, notes that "the bottlenecks for further development of renewables are grid capacity, lack of adequate energy storage capacity, and lack of [an] appropriate spatial plan for the proper siting of renewables". 2  
Energy storage assets such as batteries are essential to increase the impact of renewables. This is especially true in a country like Greece, where there is a marked difference between daytime and night-time energy generation. Storage isn't a complete solution, but it does offer energy flexibility. The more batteries a country has, the more it can soak up excess renewable energy to be ready to deploy when generation drops or demand increases.
So, if Greece is able to achieve this milestone but still has such a long way to go, what does this mean for the rest of the world in the energy transition?
Reasons to be positive
There is no doubt that 2022 saw positive progress. In the first half of the year, the growth in energy generated from renewables met the global growth in electricity demand. Wind and solar met 77%, and hydro the remainder.
This increase in renewable energy generation gave rise to tangible environmental benefits; with a 4% reduction in fossil fuel generation resulting in a 230 Mt reduction in CO2 emissions.3 Not only that, but an estimated $40 billion was also saved globally because of the rise in renewable use.
Moreover, whilst the ongoing global energy crisis has given rise to huge challenges, it has also driven unprecedented momentum behind the shift to green energy. The International Energy Agency predicts that the world will add as much renewable power in the next five years as it did in the past 20. This will transform the global power mix and renewables will become the largest source of electricity by 2027.4
One of the most important developments has been the shift in the drivers to adopt green energy solutions. Cost has long been the most significant barrier to adoption, but renewables are increasingly considered the more economical choice. Greece realised this during its five hours of fame: with Mantzaris noting that generating power from renewables is now 'economically preferable by far compared to electricity produced by lignite or gas, even if one includes the cost of storage.'
How does the UK compare?
Clean power generation is front-and-centre of the UK's Net Zero Strategy for 2050. The government has set energy providers a target for all electricity to come from zero-carbon generation by 2035.
Ahead of COP27, Rishi Sunak pledged to make the UK a 'clean energy superpower'. And the country is making strong progress, with over 40% of the UK's energy supply now made up of renewables such as wind and solar. The UK has also reduced carbon emissions quicker than any other G7 country. This has created over 430,000 jobs across the nation in low-carbon businesses and their supply chains.
The UK's transition has been supported by £30 billion in funding from the government as part of the 'Green Industrial Revolution'. This aims to drive continued growth of the country's economy while protecting its natural resources and reversing damage to the environment.
Whilst the energy transition is vitally important to drive environmental improvements, Russia's invasion of Ukraine and the associated sharp reduction in energy imports has made it even more clear that renewables are essential to ensure the future of the UK's energy supply.
What progress are we seeing across the World?
In 2021, Norway was blazing the trail with 99% of its energy produced through renewables, followed by New Zealand with 90%. The other countries in the top ten were Brazil (78%), Colombia (75%), Canada (68%), Sweden (67%), Chile (47%), Spain (47%) and Romania (44%), with the UK not far behind at 41%.
Significant investment and policy developments are still required if we are to reach global targets. We are now unlikely to limit global warming to 1.5°C above preindustrial levels, and focus has shifted to efforts to keep the increase below 2.0°C. This will require trillions in investment globally, and the imminent redirection of capital from fossil fuels to renewables.
Research from IRENA (the International Renewable Energy Agency) predicts that most of this additional capital must come from the private sector. In parallel, we will need to double public financing to facilitate the conditions where the transition can be achieved. The report also calls for a holistic global policy framework to drive the transition and highlights the need to explore all potential technologies.5
So, whilst Greece's five hours of renewable fame was certainly impressive and demonstrates the possible – and countries like Norway are making astonishing progress – there is still significant investment and innovation required to achieve a global energy transition.
About Dare
At Dare, our mission is balancing the world's energy to reach a greener future, faster. The transition to net zero is the existential task facing the world today and we are designed to solve one of the most critical challenges of the transition: the intermittency of renewables. We want to use our world-leading technology, market knowledge and trading skills to keep the world's energy in balance, enabling and investing in the shift to green energy.
1 https://www.reuters.com/business/sustainable-business/greek-renewables-fully-cover-power-demand-first-time-record-2022-10-10/
2 https://news.sky.com/story/for-five-hours-last-week-greece-ran-entirely-on-electricity-from-solar-wind-and-water-12720353
3 https://ember-climate.org/insights/research/global-electricity-mid-year-insights-2022/
4 https://www.iea.org/news/renewable-power-s-growth-is-being-turbocharged-as-countries-seek-to-strengthen-energy-security
5 https://www.irena.org/Energy-Transition/Outlook