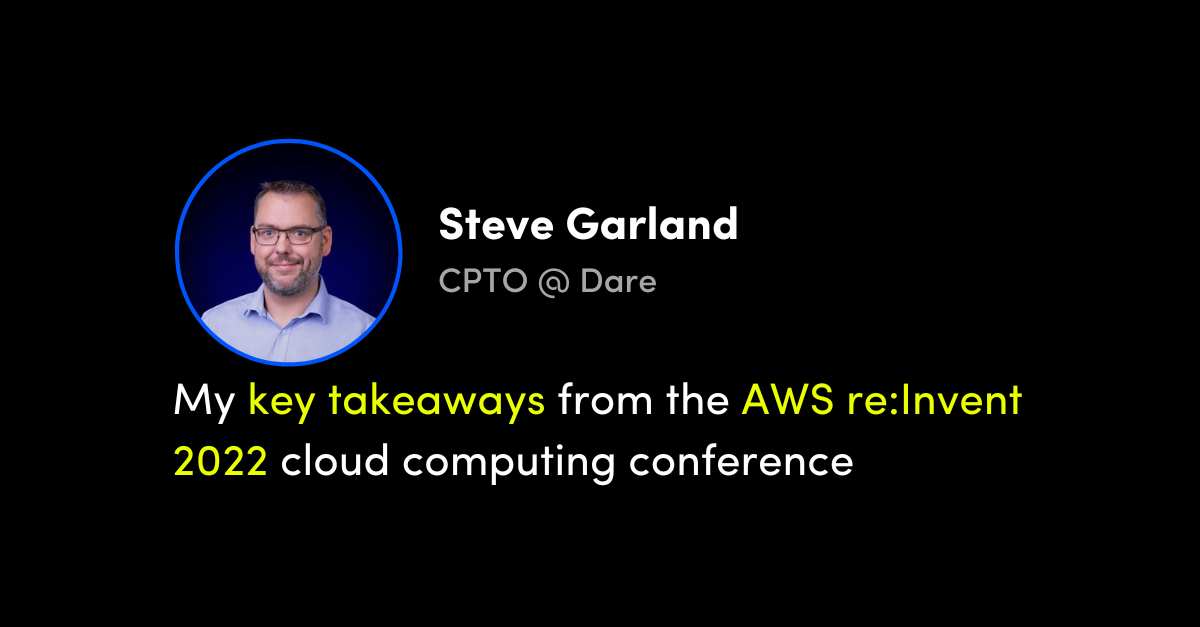 AWS re:Invent is the largest cloud computing conference in the world. The annual event is full of gems covering the latest developments from experts in the field. From infrastructure and security to machine learning and data analytics. This year was no different. Dare CTPO, Steve Garland made the journey over to Nevada to see for himself. He reflects on his key learnings and what this means for climate change. 
I had a great time at AWS re:Invent 2022. It's one of the major tech events of the year, and the cross-pollination of ideas never fails to motivate me. I'm a big fan of the platform it provides to connect to other professionals in the field. My key learning was one of unity through data and technology, to help us tackle our biggest modern-day problems. 
Having been at Dare for two months, I couldn't help but link it back to the company's mission. Dare's commitment is to make renewables viable at scale and speed up the transition to green energy. The conference hammered home that to tackle the hugely complex problem of climate change; we need to combine our resources and methods on a global scale. We have reached the limits of what any one sector can achieve by itself. It's high time that we bring our industries, methodologies, and worlds together.  
We currently have around 100 zettabytes of data worldwide (1 ZB = 1000 exabytes, or 1 trillion gigabytes). Write down a 1 followed by 23 zeros and that's how many bytes we have kicking around - it's a mind-boggling number. But it also provides an incredible opportunity.  
Cross-sector collaboration is the only way to harness this non-trivial amount of data. We need to combine our technologies and use this to drive progress. Cloud computing is already a part of the solution to enable data and tech growth. Some choice examples of this from AWS are: 
There are more than 1000 unicorn start-ups globally. 83% of these run-on AWS. (Unicorns are companies with a valuation over £1 billion before being listed on the stock market. The tech holy grail).  
The Options Clearing Corp is the central clearing warehouse for all listed equity options traded in the US – a key part of the global financial markets. They are shifting their core workloads to the cloud right now. AWS CEO Adam Selipsky was understandably excited to have landed that deal. 
These examples illustrate the power of cloud computing and fact that these shifts are happening right now. The collaborative, decentralised nature of cloud computing is key to success here.  
Returning to the challenge of climate change, it's interesting that Amazon is the world's biggest corporate buyer of power. Despite this, they want to reach 100% renewable energy usage by 2030 globally, and to reach carbon net zero by 2040. This is an impressive goal. What's more impressive is that they are over 80% of the way there already. I'm convinced that their success is down to how their business spans many sectors – they unify their approach and harness the data they gather. They deploy collaborative tools and technologies on a global scale.  
Another key to tackling climate change is how we scale up solutions that have proven effective in smaller settings. Whether it's the adoption of sustainable agriculture practices or the deployment of renewable energy systems. We must find ways to bring these solutions to a larger scale to make a real impact on climate change. The cloud and other collaborative tools help achieve this.  
Take Amazon CTO Dr Werner Vogel's keynote speech. He extolled the virtues of spatial simulation and explained how this will revolutionise every industry helping us work together. He thinks scaling this up will be key to understanding the highly complex world around us. He's not wrong.  
Historically, simulation tools haven't been widely accessible because they required vast amounts of computing memory to be run from a single machine. With the new AWS SimSpace Weaver, they have finally managed to scale the simulation techniques. AWS enabled users to break down a simulation into a grid of smaller segments. This grid can then be used to distribute the simulation code across multiple computing nodes. This decentralisation has unlocked the accessibility and scalability of simulation techniques.  
For Dare, scaling data, technology and energy solutions will allow us to work more collaboratively. This will lead us to the solutions to complex global challenges like climate change. We embrace this at Dare, so come and join us if you're interested. Work with us to drive the world to a #greenerfuture, faster.