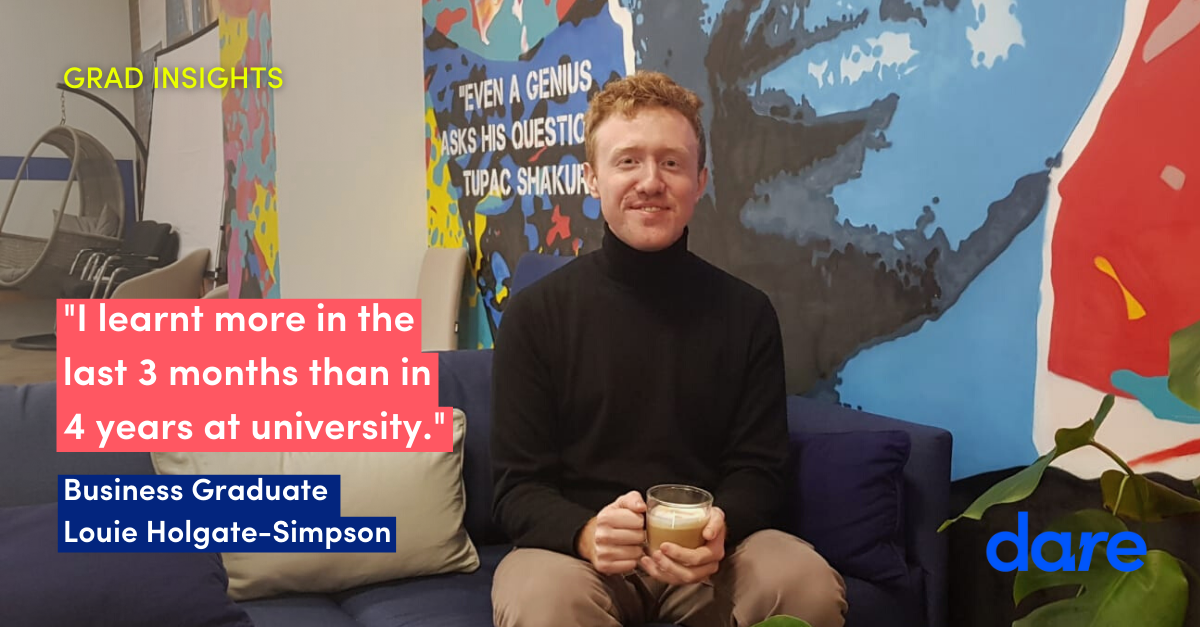 This year, Dare unveiled a new graduate business management programme. The programme gives our graduates both the exposure and tools necessary to fast-track their professional development. Hear directly from our grad Louie below on what he's experienced first-hand over the first three months of the programme.
My graduate programme started with two weeks of training including a chance to shadow our energy traders during their trading windows. They took the time to talk us through their process and were impressively patient, which made me feel welcome. This time allowed us to get up to speed with what the business does and how it operates, and set us up for success for the rest of the programme. The experience was both eye-opening and exciting.
Following this, I joined two weeks of classes. They provided further context to the business whilst enabling a seamless transition from university to working life. I learned about everything from the treasury function to power trading. I enjoyed learning how everything fits together in practical terms: About how clearing banks work, how the tech teams operate, and even how Python works.
The other grads and I then joined separate departments as part of our six-month rotations. The rotations include positions in the power operations, trading operations and risk, finance, and strategy teams.
Because the business is a scale-up and I work in a relatively small team, I am given significant autonomy, and I found myself working on projects that added real value to the business from day one.
Some of the projects we delved into included researching investment strategies, building the learning management system, preparing for the launch of Dare's latest products and services, and financial reconciliation tasks. I was even tasked with a market opportunity research project that led me to present to the senior leadership team in my first weeks.
Dare is growing fast, which means that there is a great opportunity for career progression and to make an impact. The culture is vibrant, supportive, and ambitious. I'm always learning new things and given ownership of my work, which makes me eager to give it my all every day. I'm excited about what my future holds here.
Visit our careers page for more insights into our student and professional opportunities here. To hear about experiences from our interns during Spring Insight Week, see their blog here.