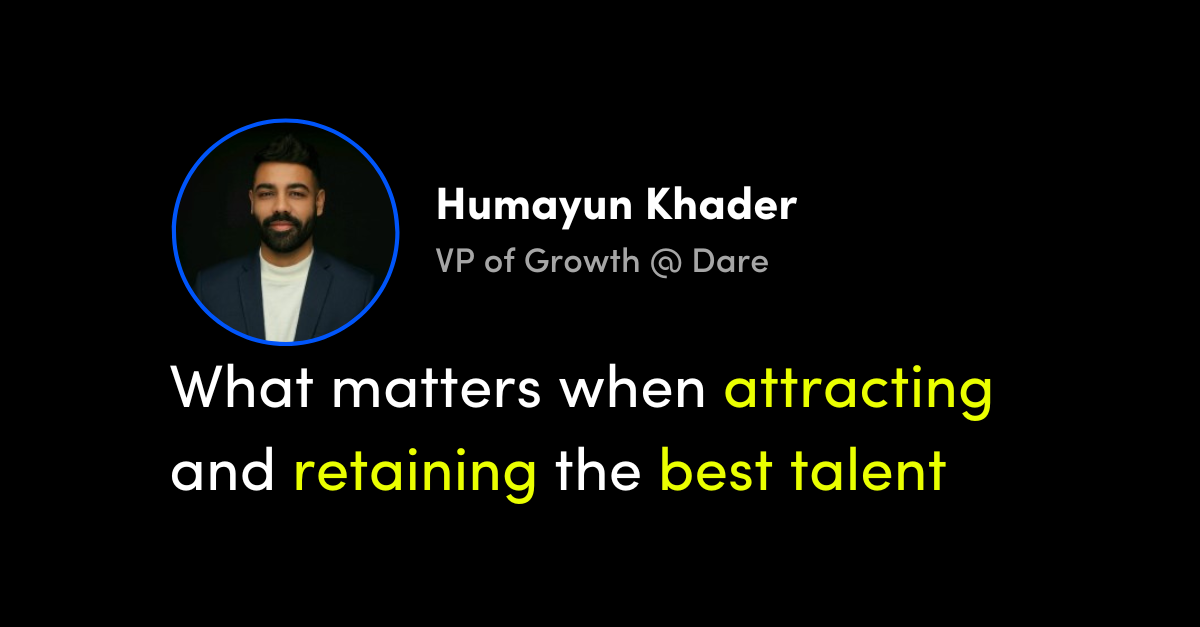 Our VP of Growth, Humayun Khader was a panellist for the Future of Work forum by Robert Half to discuss all things #futureofwork and #digitalworkplace.
Humayun has been with @dare since its inception. Read his insights on what matters most when attracting and retaining the best talent:
#1: Using technology to find the best talent
We hate CVs. Instead, we use technology to supercharge our graduate recruitment process. We've developed gamified assessments where people are selected based on demonstrable skills and abilities – measuring what matters. We hire based on potential and skills, not just a piece of paper. Technology is essential to enabling disruption of the hiring process.
#2: Having an environment where people want to be
People join for the mission and salary but stay for the culture and the values. We're a company with a diverse group of people, and that comes down to our leadership which reflects this. I strongly believe in the mantra "you can't be what you can't see." At Dare, we hire based on talent and drive, with people from all walks of life. The shared drive towards our mission is what we have in common; our one-team culture means we focus on attracting people who truly resonate with what we do.
#3: Transparency of the recruitment process
People want transparency and structure. They want to know every step in the recruitment process to map out their careers and assess a company's suitability. Typically, recruitment processes involve many stages and stakeholders. Therefore, it's critical to be clear about your company's offerings and ensure that candidates' expectations are communicated throughout each phase.
#4: Offering company perks & benefits that matter
Know your people. Our benefits and perks grew and evolved with the company because we listened intently to our people. For example, when Dare was a start-up, we had massage therapy as a benefit before we offered a world-class pension scheme. And now, as our people have grown with the company, we've just introduced industry-leading parental leave policies.